It's been a long day, and I am tired. My go to meal? Spaghetti. When it's Matt making the meal (the only meal he can make, even if he doesn't spice it up), it's regular seashell spaghetti. Made like regular spaghetti, but with the seashell noodles. We like it better. However, when I make it, I like cheese (this is why I'm fat?). So, I make a baked spaghetti. It looks to be a lot more hassle than it is, and I promise, it's worth it.
Here is the best part. Almost all of the main ingredients are from Aldi. Yes, Aldi! With the exception of the hamburger meat and specialty cheeses (Asiago and Parmesan) which are from Harris Teeter, this is an Aldi meal.
Ingredients:
1 Box of Pasta
1-2 Jars Pasta Sauce
1lb Hamburger Meat
3tsp Pre-minced Garlic or 6 Garlic Cloves, minced
1Tbsp Italian Seasoning
1/2Tbsp Red Pepper Flakes
2.5 Cups Mozzarella/Italian Cheeses
6Tbsp Cream Cheese
Optional:
Asiago Cheese
Parmesan Cheese
1. Preheat oven to 350
2. In a skillet brown hamburger meat with minced garlic, red pepper, and italian seasoning. (here are pictures of the seasonings and the type of pre-minced garlic.)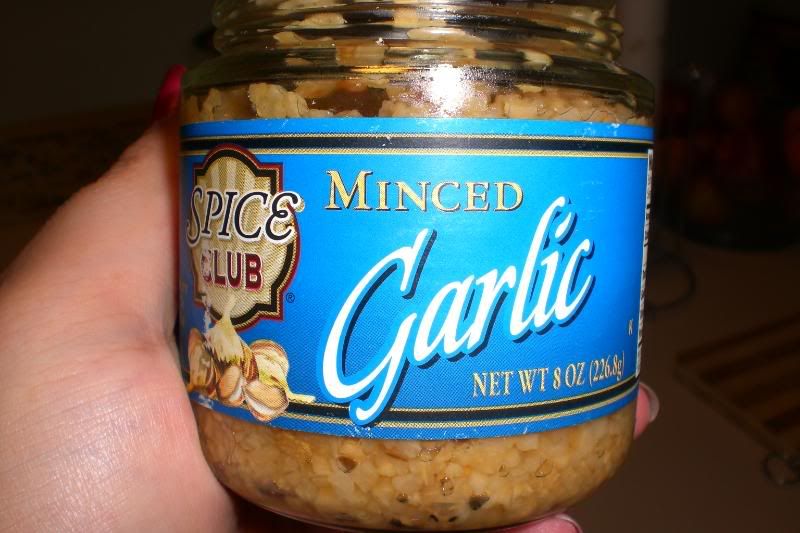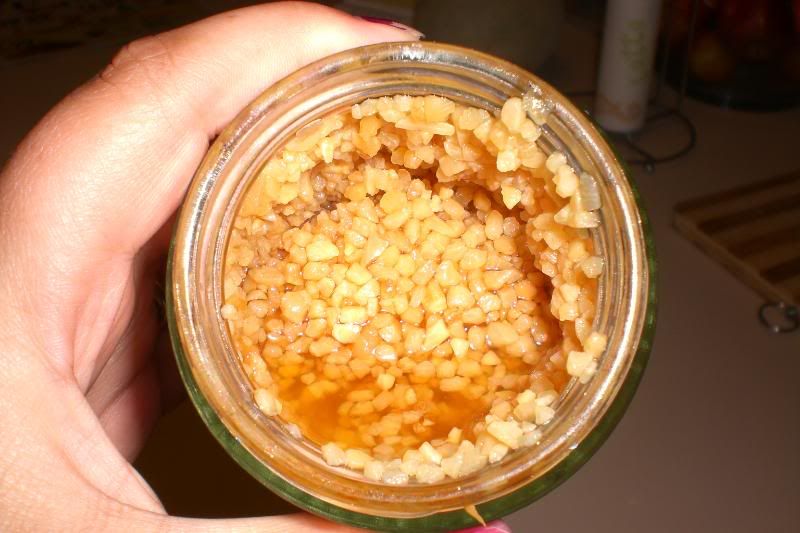 3. Drain the excess grease
4. Stir the meat in with the pasta sauces. I am out of homemade, so I used my next fave. I prefer my spaghetti to be saucy, so I do two jars. If you prefer less sauce, use one.
(Spaghetti sauce is from Aldi)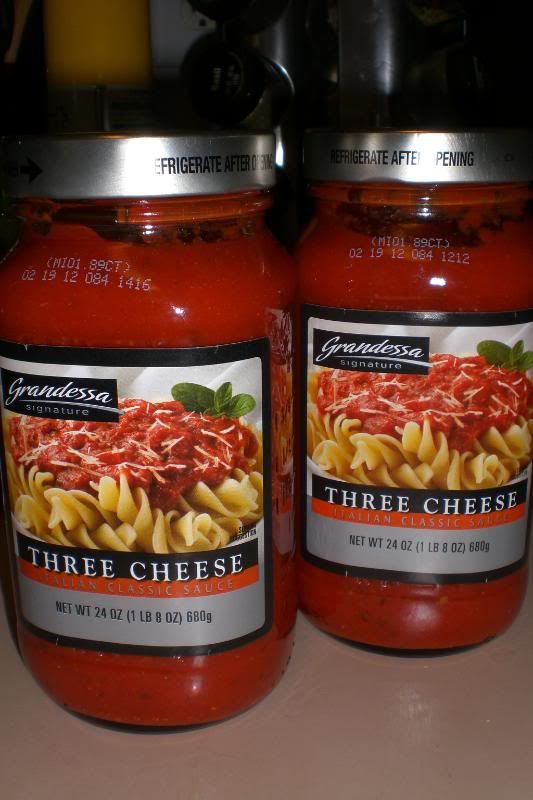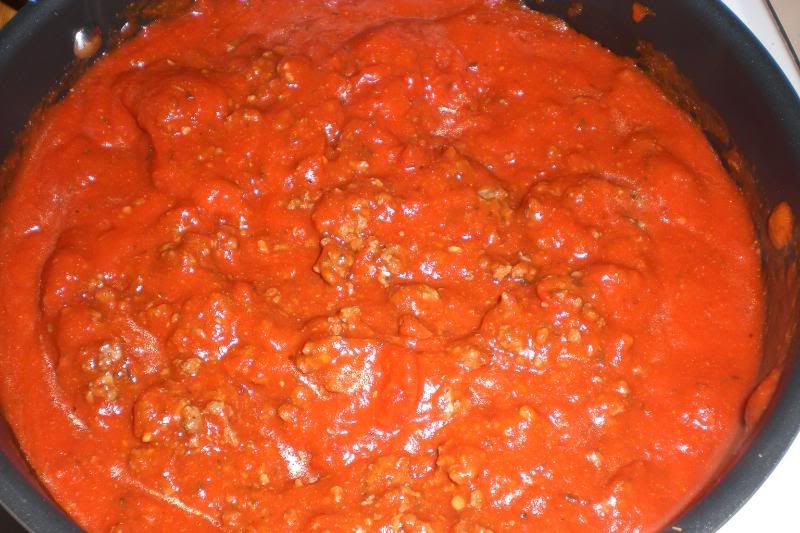 5. Cook your pasta, al dente, according the the box, then drain.
6. Place cooked noodles in large bowl
7. Melt your cream cheese, 3Tbsp at a time, mixing with pasta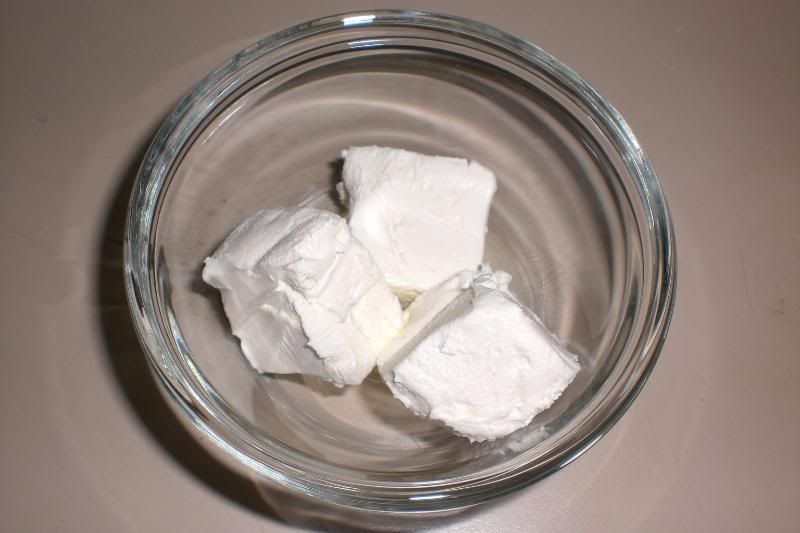 8. After the cream cheese is well blended, stir in 1 cup of Italian/Mozzarella cheese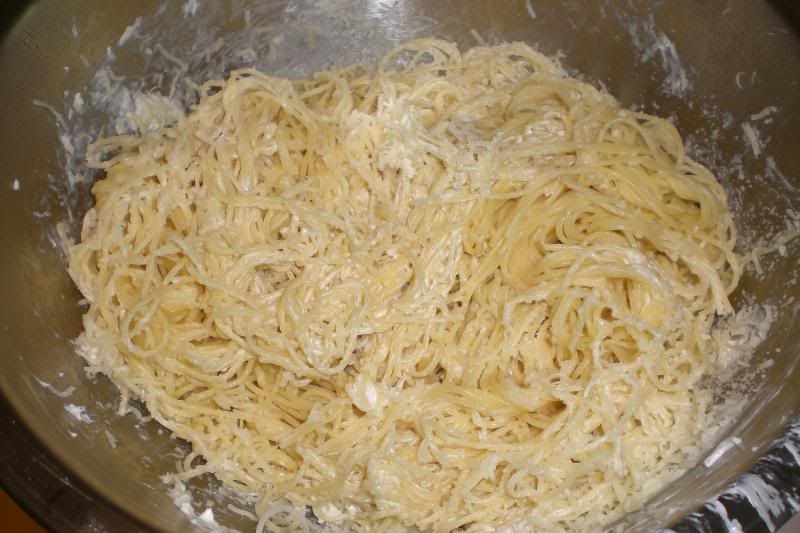 9. Add in meat sauce, holding back 1 cup for topping, mix well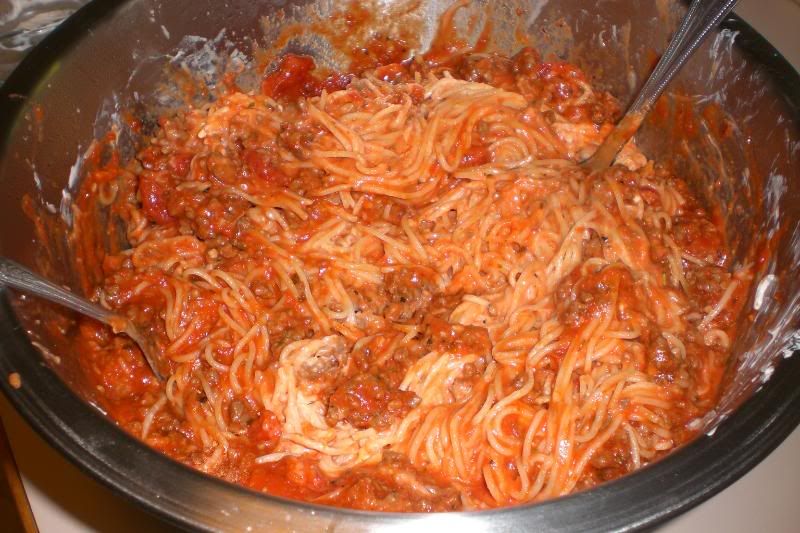 9. OPTIONAL mix in 1/2 cup of parmesan cheese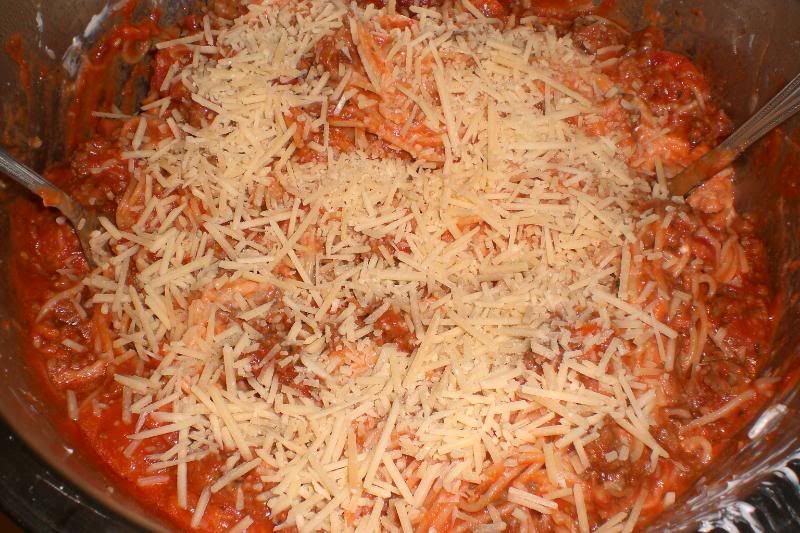 11. Spread evenly into a 9x13 baking dish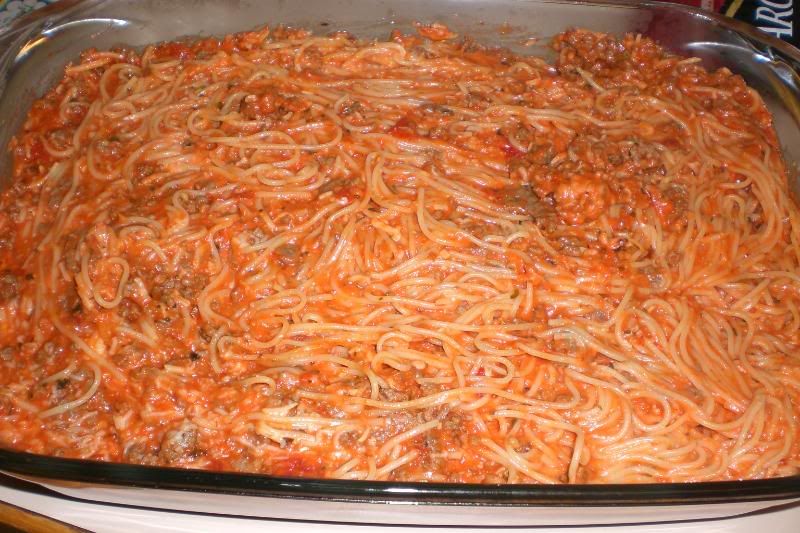 12. Cover the noodles with the extra sauce that you held back earlier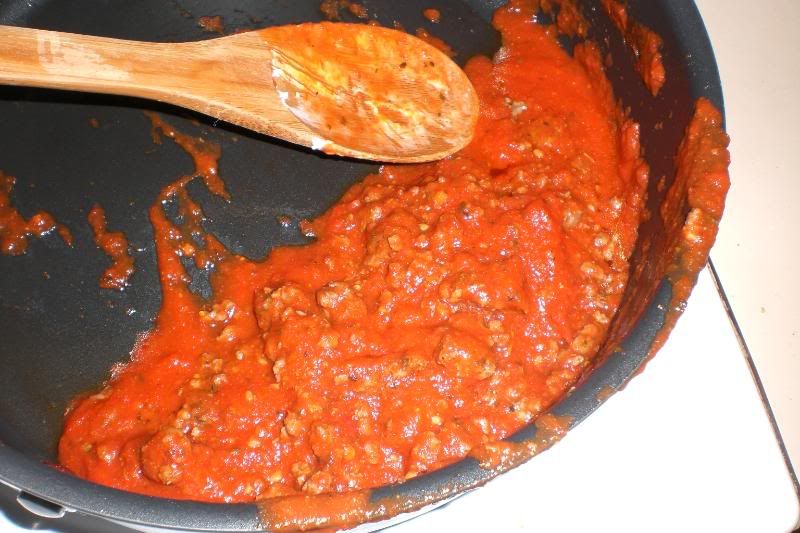 13. Spread 1.5cups of Italian/Mozzarella cheese on top, evenly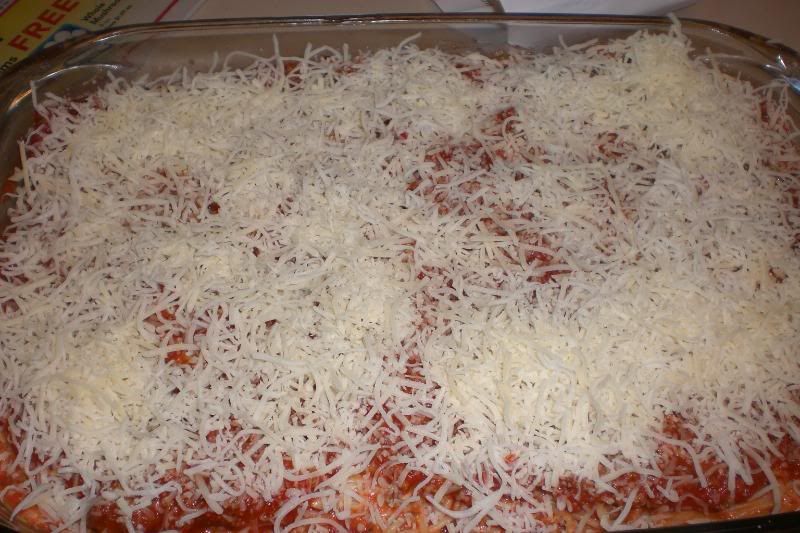 14. OPTIONAL: Sprinkle lightly with Parmesan and Asiago Cheeses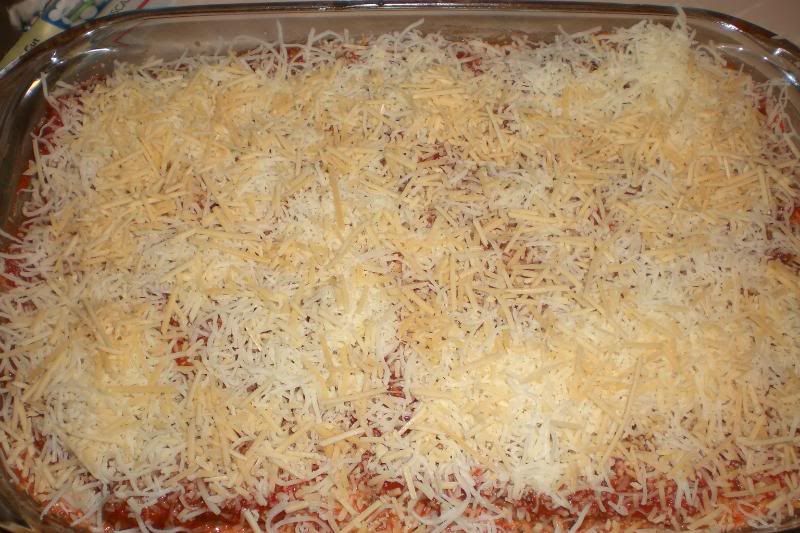 15. Cook, covered, for 30 minutes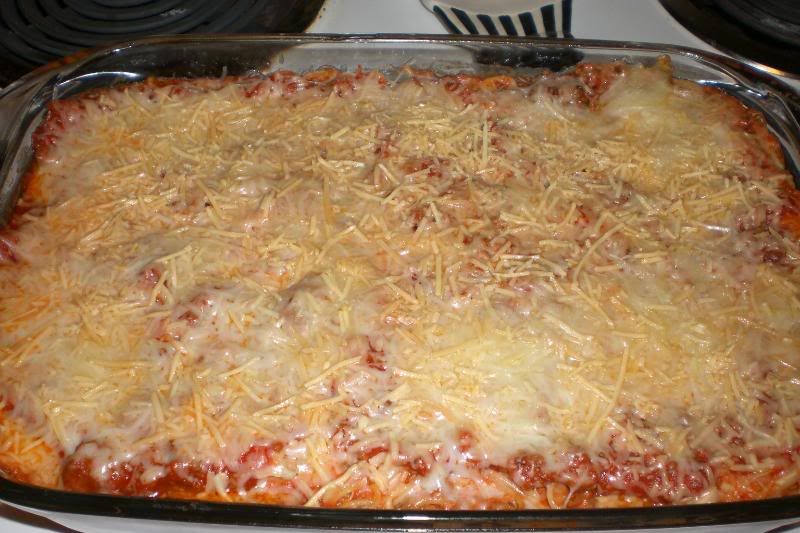 16. Let stand for 15 minutes, to setting. Then serve and enjoy!