I love cooking Italian foods. Almost as much as I love eating them. One thing I have never eaten, even at my very first job as a waitress at Amalfi's, is stuffed shells. So, I decided that I was going to take a chance at making these.
And my family loved them. Even my very picky 7 year old.
Ingredients needed:
1 package of Jumbo Shells (I used Walmart brand)
4 cups of Mozzarella Cheese
4-6oz fresh Parmesan cheese
16oz Ricotta Cheese
1 Large egg
2Tbsp Oregano
1Tbsp Parsley
Salt and Pepper to taste
Garlic Powder or Fresh minced garlic
Your brand of Spaghetti Sauce
(I made a homemade mushroom and Italian sausage sauce with wine. I will post that later. For now, a good jar will be fine)
Prep Time: 30 minutes
Cook Time: 30 minutes
1. Boil the shells according to the directions. I boiled mine for 14 minutes. They were cooked well, but firm enough for me to move around and fill.
2. While they are cooking, mix together the following:
Ricotta Cheese
2 cups Mozzarella
Parmesan Cheese
Egg
Parsley
Oregano
Salt and pepper
Garlic Powder or fresh minced Garlic to taste
3. Drain Shells and rinse with cool water, so they are not to hot to handle. Once they have cooled enough to touch, spray 2 9x13 pans with butter spray
4. Preheat oven to 350
5. Fill each shell with 2 heaping Tbsp of the cheese mixture and place side by side in the dish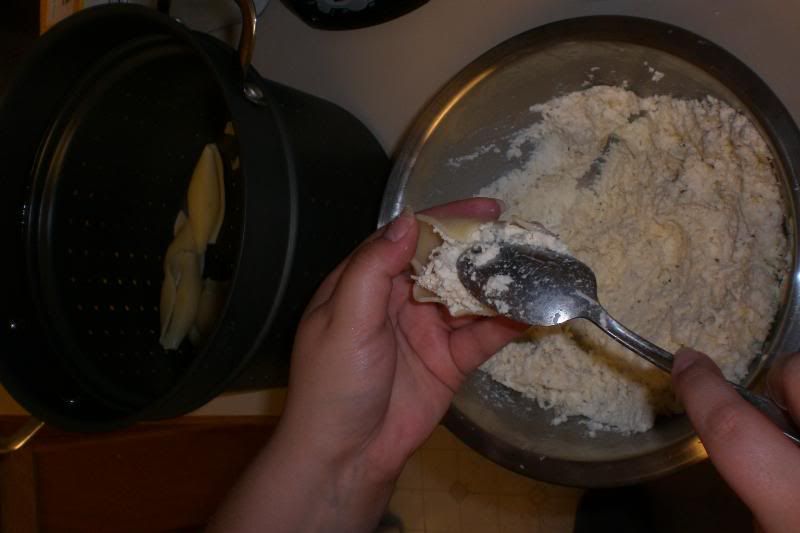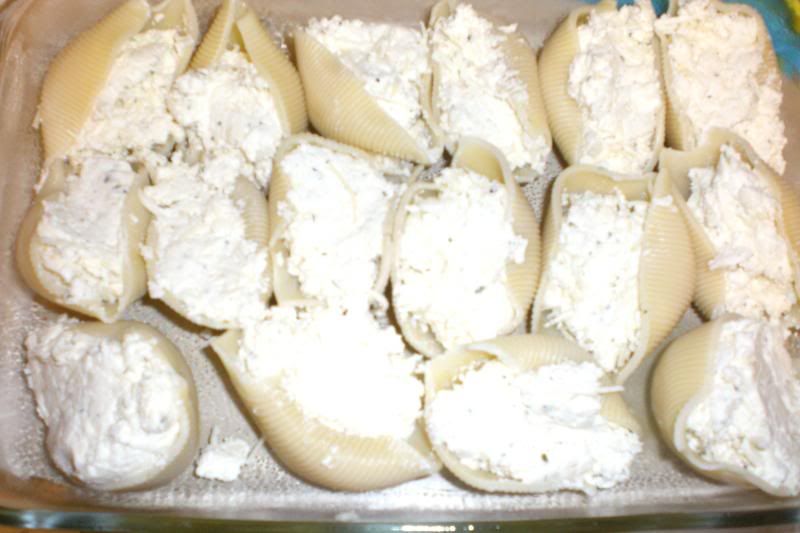 6. Cover the shells with your pasta sauce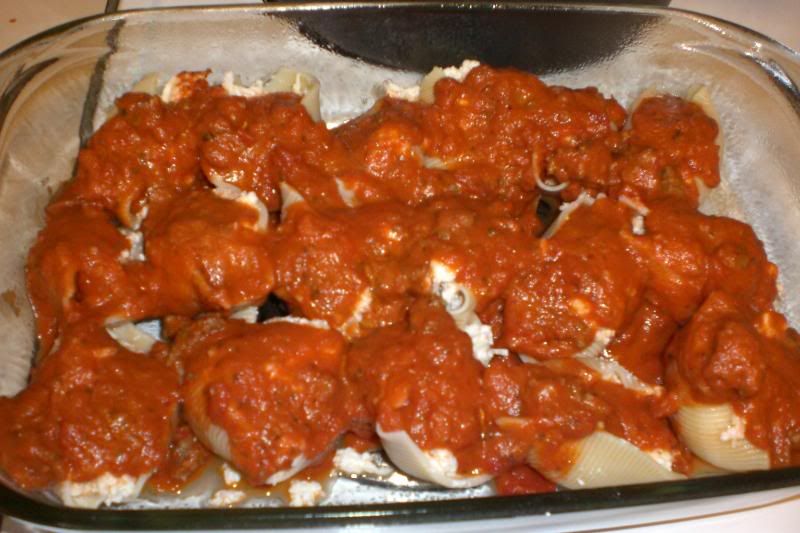 7. Place tinfoil over the shells and bake for 20 minutes
8. Remove from oven, sprinkle with 1 cup of Mozzarella and place back in the oven, uncovered, for 10 minutes. (since this makes 2 dishes, the last cup is for the last dish)
This meal is AWESOME. And makes an awful lot, so it might make sense for you to half the recipe. It sounds scarier than it is. I was amazed at how easy it really was, and how much fun I had making it.
Now, you can prep this the night before, and just throw it in the oven the next day. Cuts some of the stress.